This itinerary starts at the Chiesa della Madonna del Soccorso, or on Parcheggio Viale Strozzi, on Via Pietra Strozzi (nearby the church).
You walk along dirt roads, through vineyards and woodlands to the simple beauty of the small Chiesa della Madonna delle Grazie.
Main sights are the Chiesa della Madonna del Soccorso, the Duomo (Cattedrale del Santissimo Salvatore), Parrocchia Di S. Egidio Abate en Piazza del Popolo, Chiesa di San Pietro, Porta Burelli and a handfull of wineries. Your walk finishes at the very impressive Fortezza di Montalcino.
You can visit the beautiful historic center of Montalcino before or after your walk, or enjoy exclusive wine tours and tasting experiences in the valleys below.
Download gpx tracks here

Total length: 8,61 km
Total climb 344 m
Total descent 363 m
The terroir of Brunello di Montalcino is a mosaic characterized by distinctive and differentiating locations, altitudes and soil composition. Vineyards planted on the northern slopes ripen more slowly and tend to produce wines that are racier and more aromatic. The Northwest of Montalcino is heavily forested with cool temperatures, and has clay, sandstone and schist soils.

You are in the midst of some great wineries: Padelletti, Salvioni, Silvio Nardi, with a winery established in the 50's, and Castiglion del Bosco are all nearby. Or check out Castello Romitorio, owned by famous Transavanguardia artist Sandro Chia, who spent years carefully restoring the property after acquiring it in 1984, and, after hiring Italy's top oenologist, Carlo Ferrini, started the production of prestigious wines.

In the heart of the city you can find some pleasant enoteca or wineries. The wine estates outside the city are also easy to visit and organize tastings and tours of the domain. Plan your visit to one of these great Brunello wineries in advance. It's appropriate to make reservations for a tasting or a tour at most wineries, so contact them a few days in advance.

Anyway, you walk through the vineyards of Il Poggiolo and Il Palazzone, and a winetasting tour on both wineries could be a good idea.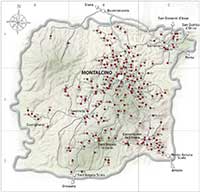 Map of the Brunello di Montalcino region | Member companies of the DOCG Brunello di Montalcino
Fortezza di Montalcino, Porta al Cassero
Il Poggiolo Rodolfo Cosimi
In 1975 Il Poggiolo produced fis first Brunello di Montalcino for the first time, and in 1985 Rodolfo Cosimi I created the first "Brunello Cru" wine, named "Il Sassello".

Il Poggiolo Rodolfo Cosimi
Podere Sasso al Vento, Località Sasso al Vento, 262, 53024 Montalcino
chiamare il +39.348.3411848 o +39.327.4767170
Mail:
Website: www.ilpoggiolomontalcino.it

Il Palazzone
Il Palazzone
Loc. Le Due Porte, 245, 53024, Montalcino
+39 0577 846142
http://www.ilpalazzone.com/



Other wineries on the western slopes of Montalcino.

Tenute Silvio Nardi
In 1950 when Silvio Nardi purchased Casale del Bosco, in the north-west of the Brunello zone. Further expansion came by adding the Manachiara estate and other properties.

Casale del Bosco - 53024 Montalcino
Tel. +39 0577 808269
Mail: italia@tenutenardi.com
Website: http://www.tenutenardi.com/

Wines: Brunello di Montalcino Vigneto Manachiara DOCG, Brunello di Montalcino Vigneto Poggio Doria DOCG, Brunello di Montalcino DOCG and Rosso di Montalcino DOC.

Castiglion del Bosco
Castiglion del Bosco, where Pietro Lorenzetti has painted a fresco Annunciazione dei Santi in the Church of San Michele in Castiglion del Bosco's Il Borgo. It was rediscovered in 1876. In 1967 Castiglion del Bosco became one of the founding members of the Consorzio del Vino Brunello di Montalcino.

Castiglion del Bosco
Loc. Castiglion Del Bosco, 53024, Montalcino
00 39 0577 191 300
Website: www.castigliondelbosco.com

VIEW WINE TOURS & TASTING OPTIONS

A map with some of the most particular wineries on the western and southern slopes of Montalcino can be found here.
Palazzo dei Priori a Montalcino
Palazzo dei Priori a Montalcino, torre
Palazzo dei Priori, torre