Celebrare il dolce far niente


The first bee hive in the garden
What should you do if you see a swarm?
The valley below Podere Santa Pia
Calici di Stelle 2018, Cinigiano 10 Agosto
A Cinigiano (Grosseto), cena sotto le stelle organizzata per le vie del paese dall'Associazione Pro Loco Cinigiano; degustazioni e cantine aperte; spettacolo teatrale e musica dalle ore 20 alle ore 24.
Info: tel. 0564994187 – www.prolococinigiano.org – www.comune.cinigiano.it
From March to December, the Tuscan Nature Train gives you the opportunity to explore the Sienese countryside and villages in an unconventional way. Treno Natura 2018 offers various travel itineraries, strictly on vintage trains, discovering the most beautiful landscapes near Siena, visiting food and antique markets, exhibitions, the truffle museum and the truffle market in San Giovanni d'Asso, and on May 1st a pleasant traditional festival in Sant'Angelo Scalo.


Il Trenonatura | Ferrovia Turistica della Val d'Orcia | Historical trains for events Program

Program Terre di Siena | www.terresiena.it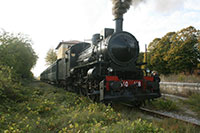 Treno a vapore da Siena nel stazione di Sant'Angelo-Cinigiano
Collegium Vocale Crete Senesi is an annual music festival under the artistic direction of Philippe Herreweghe in the beautiful region of the Crete Senesi in Tuscany. Conducting artists include pianist Nelson Goerner, cellist Andreas Brantelid and lead singer Christoph Prégardien. Members of the Antwerp Symphony Orchestra and Concertgebouw Orchestra Amsterdam play a chamber music concert on Monday and Friday, respectively. The Edding Quartet will play an intimate late-night concert on Wednesday evening, and accordionist Philippe Thuriot will end the day with a free improvisation concert on the outdoor stage at Bar Hervé on Monday and Thursday evening.
The soloists of Collegium Vocale Gent conclude the 2019 festival on Friday evening, August 2 at the Monasterio Sant'Anna in Camprena with the Psalms Davids by Heinrich Schütz.

Program 2019 | Collegium Vocale Crete Senesi from Sunday 28 July until Friday 2 August.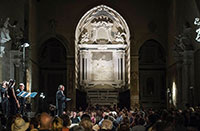 The magnificent hills of the Crete Senesi offer artistic routes with evocative and suggestive landscapes. Typical conformations of the land are the badlands, the ruffles, and biancane that give the landscape its characteristic gray color and a sometimes lunar appearance.
Piazza del Campo, Il Campo, seen from the top of Torre del Mangia.
The coastline offers uncontaminated beaches such as the Tombolo di Feniglia, Marina di Alberese, and Cala Violina. But in between these famous beaches, there are plenty of coastal getaways, small but lively resorts, and beautiful sandy beaches.
Piero della Francesca, La seduzione della pospettiva
Museo Civico, Sansepolcro
25 marzo 2018-6 gennaio 2019
Il 25 marzo 2018 apre a Sansepolcro la grande mostra "Piero della Francesca. La seduzione della prospettiva" curata da Filippo Camerata e Francesco Paolo Di Teodoro. Un evento che segue il restauro della Resurrezione, presso il Museo Civico della città, che sarà ufficialmente presentato due giorni prima dell'inaugurazione della rassegna.