Abbadia San Salvatore (SI), Castagneto Carducci (LI), Castel San Niccolò (AR), Castelfranco di Sotto (PI), Foiano della Chiana (AR),Lari (PI), Pieve Santo Stefano (AR), San Casciano in Val di Pesa (FI), Seravezza (LU), Subbiano (AR), Suvereto (LI).


Tuesday

Arcidosso(GR), Bientina (PI), Borgo San Lorenzo (FI), Buggiano (PT), Capannoli (PI), Carmignano (PO), Cecina (LI), Chiusi (SI), Cinigiano (GR), Cutigliano (PT), Fauglia (PI), Figline Valdarno (FI), Fivizzano (MS), Gavorrano (GR), Montemurlo (PO), Monteroni d'Arbia (SI), Peccioli (PI), Piazza al Serchio (LU), San Giuliano Terme (PI), San Miniato (PI), Sansepolcro (AR), Sinalunga (SI), Stia (AR).


Wednesday

Bagno a Ripoli (FI), Bucine (AR), Calenzano (FI), Campo nell'Elba (LI), Capalbio (GR), Castel del Oiano (first wednesday of the month)Castel Focognano (AR), Castelnuovo Val di Cecina (PI), Certaldo (FI), Chianciano Terme (SI), Chiesina Uzzanese (PT), Civitella in Val di Chiana (AR), Forte dei Marmi (LU), Fucecchio (FI), Gallicano (LU), Laiatico (PI), Magliano in Toscana (GR), Massa Marittima (GR), Monte San Savino (AR), Piombino (LI), Pitigliano (GR), Ponsacco (PI), Pontassieve (FI), Pontremoli (MS), Roccastrada (SI).


Thursday

Agliana (PT), Altopascio (LU), Bibbiena (AR), Bibbona (LI), Campiglia Marittima (LI), Casciana Terme (PI), Cascina (PI), Castelnuovo Berardenga (SI), Castiglion Fibocchi (AR), Chiusdino (SI), Guardistallo (PI), Lucignano (AR), Marciana (LI), Minucciano (LU), Montecatini Terme (PT), Montepulciano (SI), Montevarchi (AR), Pietrasanta (LU), Rapolano Terme (SI), San Giovanni Valdarno (AR), Santa Maria a Monte (PI), Viareggio (LU), Vicchio (FI).


Friday

Camaiore (LU), Capolona (AR), Castelfranco di Sopra (AR), Castiglion Fiorentino (AR), Colle di Val D'Elsa (SI), Follonica (GR), Lamporecchio (PT), Montemurlo (PO), Pienza (SI), Ponte Buggianese (PT), Pontedera (PI), Portoferraio (PI), Pratovecchio (AR), Sarteano (SI), Terranuova Bracciolini (AR), Torrita di Siena (SI), Vecchiano (PI), Villafranca in Lunigiana (MS).


Saturday

Agliana (PT), Aulla (MS), Barberino di Mugello (FI), Barga (LU), Buonconvento (SI), Castelfiorentino (FI), Castellina in Chianti (SI), Castellina Marittima (PI), Castiglione d'Orcia (SI), Castiglione della Pescaia (GR), Cetona (SI), Civitella Paganico (GR), Cortona (AR), Fiesole (FI), Greve in Chianti (FI), Impruneta (FI), Larciano (PT), Lastra a Signa (FI), Manciano (GR), Montelupo Fiorentino (FI), Montopoli in Val d'Arno (PI), Orbetello (GR), Pescia (PT), Pieve a Nievole (PT), Pieve Fosciana (LU), Pontremoli (MS), Porto Azzurro (LI), Quarrata (PT), Reggello (FI), San Giovanni Val D'Arno (AR), Santa Croce Sull'Arno (PI), Sesto Fiorentino (FI), Volterra (PI).


Sunday

Monterchi (AR).





Markets in Tuscany | The best food addresses and food markets in Siena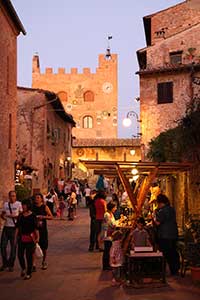 Typical local streetmarket and festrival (Boccaccesca is a festival for wine and food lovers in Certaldo)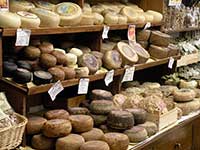 Pienza, Pecorino cheese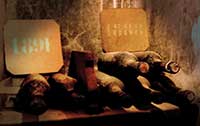 Old bottles of Brunello di Montalcino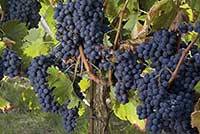 Brunello grapes, Sangiovese grosso